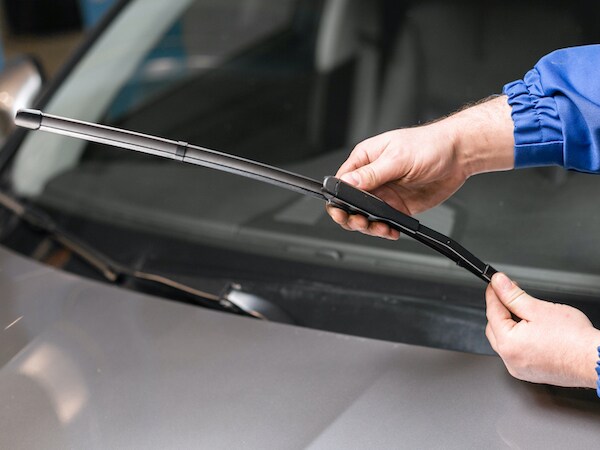 A functioning, healthy set of wiper blades help maintain visibility on the roads during a rain drizzle or downpour. If you begin to notice the wiper blades on your Chrysler, Jeep, Dodge, or RAM vehicle are showing signs of ineffectiveness or cannot remember the last time you changed your wiper blades, it may be time for a replacement.
Schedule a service appointment at our service center at Dellen Chrysler Jeep Dodge RAM. Our technicians at our Greenfield service center can help you with all your wiper blade service needs.
Schedule Wiper Blade Replacement
How Often Should I Replace My Windshield Wiper Blades
We recommend changing your wiper blades either every six to twelve months or beginning of every fall and spring. Your wiper blades, like every other component in your vehicle, will wear down, and regularly replacing them promotes safe car maintenance habits.
Warning Signs I Need New Wiper Blades
If at any moment you notice any of these tell-tale signs that indicate a need for new windshield wiper blades, visit our Chrysler Jeep Dodge RAM service center: 
Streaking: When your wiper blades lose their original grip or are torn, clearing your windshield will become an issue due to the streaks made. 
Splitting: This issue can cause scratches to your windshield because of the entire separation of the wiper blade from its base. 
Chattering: Strange, awful noises are never a good sign for your vehicle. This particular created chattering sound is ineffective wiper blades come in contact with glass only some of the time. The inconsistent job left behind can cause vision problems while you're on the road.
Other problems that may arise that signal a need for new wiper blades are bent frames, cracks, and little to no flexibility under the rubber squeegee.
Schedule Your Wiper Blade Replacement Appointment in Greenfield
When you replace your wiper blades, you will immediately notice the difference it makes in terms of your visibility and effectiveness. Schedule an appointment today at our Dellen Mopar Service Center and use our service coupons to help you save on your visit.
To keep up with regular maintenance on your vehicle, learn more about the routine car maintenance services we offer drivers to the areas in Greenfield and near New Castle and Indianapolis. 
If you have any questions, please do not hesitate to contact us. We hope to hear from you soon!