The battery of your Chrysler, Jeep, Dodge, or RAM is the heart of your vehicle's electrical system. With your car battery being responsible for functioning your vehicle all your everyday commutes, it is important to continually service and maintain your battery. Here at Dellen Chrysler Jeep Dodge RAM Mopar®, we offer a full line of batteries and services to meet your car, truck, or SUVs, specific needs.
Why Choose Mopar® Batteries?
Choosing the right battery when repairing your vehicle is important as you never want to install a battery that does not belong or fit. It can also be incredibly confusing, as you may not be an expert in car batteries. While it may be tempting to go with generic alternatives, choosing original Mopar® parts will always be a good choice.
How Do I Know I Need a New Battery?
When it comes to deciding when your car, truck, or SUV needs a new battery, there are multiple signs you should look for. Some signs that indicate when your car battery is on its last life include:
Slow to Start
Dim Lights or Electrical Issues
Corrosion Buildup
Disfigured Battery
If you are experiencing any of these problems, schedule an appointment with Dellen Chrysler Jeep Dodge RAM Service Department and we will make sure to work diligently and efficiently to get you back on the road with a brand new battery.
Lithium-Ion Battery Recycling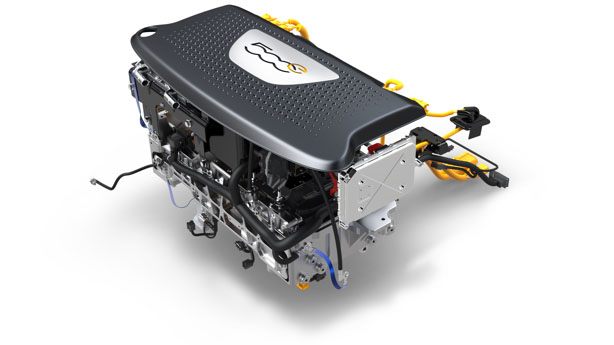 At FCA US LLC, we are committed to customer safety and environmental sustainability. Did you know that you can recycle your vehicle's lithium-ion battery? Talk to a dealer or read below for more information on how to handle your battery.
What You Need to Know 
Lithium-ion batteries being introduced into battery electric vehicles, plug-in hybrid electric vehicles and future electrification technologies (BEV, PHEV) have a different chemistry, and thus different recycling and repurposing processes compared to traditional car batteries. They are much lighter than other types of rechargeable batteries of the same size, lose only approximately three percent of their charge per month, and can be recharged and discharged thousands of times. For these reasons, they are currently the preferred battery electrical energy storage system for vehicle applications.
FCA US LLC is committed to going green -- using electrification technologies in an increasing number of upcoming vehicles, and making it easy for customers to recycle or repurpose their lithium-ion batteries. Lithium-ion batteries can currently be found in the FIAT® 500e (BEV) and the 2017 Chrysler Pacifica Hybrid (PHEV).
Please do your part to protect the planet by recycling or repurposing your lithium-ion battery.
Schedule Battery Service Appointment in Greenfield
If you are in need of a battery service or replacement, visit Dellen Chrysler Jeep Dodge RAM in Greenfield. We carry Mopar® batteries and have a team full of experienced technicians that will handle the battery service with ease.
We encourage our customers to take advantage of our auto repair service coupons to save big on your next appointment. A benefit for you and a thank you from us!
If you have any questions or would like more information on Mopar® batteries or our services, please do not hesitate to contact us.