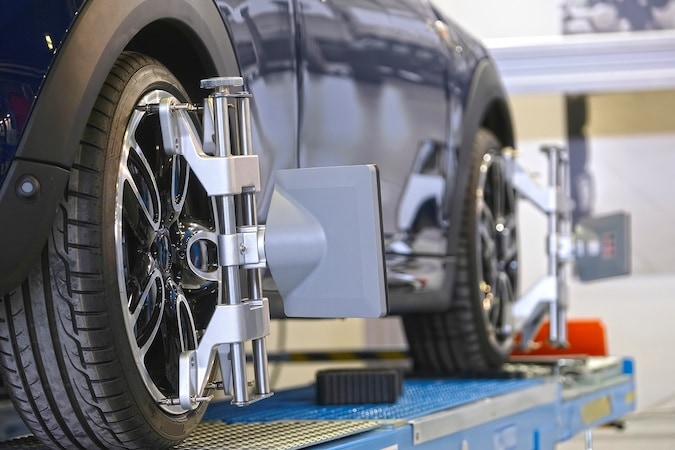 Misaligned wheels cause various issues and inhibit your vehicle from running at peak performance over time. When you require a wheel alignment, visit our Greenfield service center for needed service.
Here at Dellen Chrysler Jeep Dodge RAM, our service center is equipped with a team of certified technicians to help you with your request for wheel alignment service. We make sure your new vehicle is aligned and running smoothly for every commute. Not only do we offer a hassle-free service, but we also provide tips on how to determine if your wheels are misaligned.
Schedule Wheel Alignment Service
Warning Signs I Need a Wheel Alignment 
If the wheels on your new Chrysler, Jeep, Dodge, and RAM vehicle are out of alignment, it will not go unnoticed. Misaligned wheels will often carry symptoms including:
Vibration - Misaligned wheels cause your steering wheel to vibrate or rock left to right repeatedly, and in some cases, may cause the whole vehicle to shake as you drive down the road.
Drifting or Pulling to One Side - A directional pull is the most common sign you have misaligned wheels.
Crooked Steering Wheel - Related to the drifting and pulling warning sign, an uneven steering wheel will indicate a need for a wheel alignment service. Having to hold the steering wheel at a crooked angle to go straight shows control issues.
Uneven Tire Wear - When your tires are out of alignment, the tread depth on your tires may differ due to the unevenness. Other symptoms you notice while driving, but this is one you need to inspect.
Why Do I Need a Wheel Alignment?
A wheel alignment enhances the performance of your vehicle, ensures your stability, and increases the lifespan of your tires. It can also maintain fuel efficiency and handling as it will not have to work hard to keep you safe on the roads of Greenfield. 
Your driving habits and frequency will determine the interval needed for a wheel alignment service. While we recommend following the service interval of your owner's manual, a good schedule to follow for routine tire maintenance is to make an appointment for a wheel alignment or inspection once every two or three years. 
Schedule Wheel Alignment Service in Greenfield
If you begin to notice any of the listed warning signs on your vehicle while driving, we urge you to schedule a wheel alignment service appointment as soon as possible. 
Our routine tire services help extend the lifespan of your new vehicle and offer peace of mind for every commute. We also offer service specials to help you save on your next scheduled appointment. 
If you have any questions or would like more information, please feel free to contact us. We look forward to hearing from you soon!