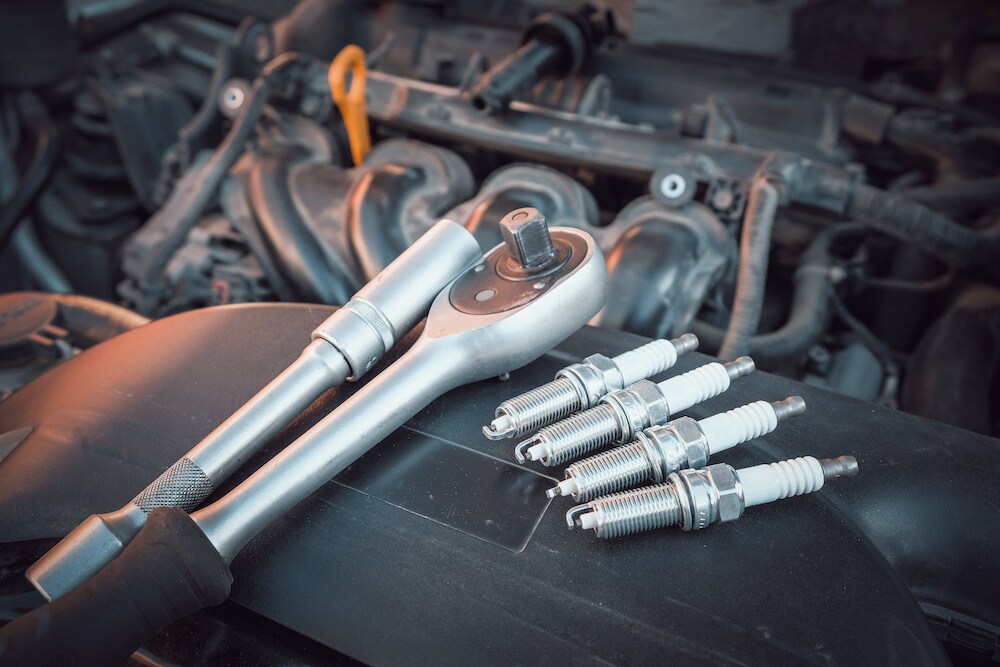 While the performance of your Jeep, Dodge, RAM, and Chrysler is determined by the health of many vehicle parts, one very small component that power and improve your everyday drives are spark plugs. 
Playing a major role in your vehicle, worn-down spark plugs can hinder your driving experience, and even stop it. Here at Dellen Chrysler Jeep Dodge RAM, our Mopar® service center is here to provide you with a spark plug replacement. 
Learn more about the importance of spark plug replacements and how our team of certified technicians can help you.  
Schedule Spark Plug Replacement
Symptoms of Bad Spark Plugs
The purpose of spark plugs is to ignite the air/fuel mixture producing the power that drives your vehicle's engine. Over time, normal use will degrade spark plug performance, resulting in potential loss of power and fuel economy. Symptoms of bad spark plugs to be aware of include:
Engine Misfires - A misfire may feel like a sudden loss of power, violent shaking, or involuntary sputtering. Consistent misfiring may result cause even more damage to other vehicle components including the catalytic converter, 
Poor Gas Mileage - Older, more worn down spark plugs increase emissions and waste fuel causing less mileage per tank of gas. 
Trouble Starting - Dirty, damaged or worn-out spark plugs make it difficult to deliver the spark needed to start your vehicle's engine, especially in cold weather. This can also damage your engine, starter, and car battery.
Slow Acceleration - Your defective spark plugs can cause a delayed response in acceleration. However, this could also be caused by other factors, such as dirty fuel injectors, faulty oxygen sensors, or a bad fuel pump. 
Rough Idling - Any rattling, pinging, or knocking sounds while idling are premier signs of bad spark plug symptoms. Your vehicle's spark plugs may not be functioning properly to keep the engine running smooth
When Do I Need Change My Spark Plugs?
As a general rule, to keep your vehicle running smoothly and fully optimized for your travels, we recommend replacing your spark plugs every 30,000 miles. It is important to note your spark plugs should be replaced as a set and not individually. 
Our service team utilizes genuine OEM parts to maintain factory-made consistently for your vehicle. We recommend following your vehicle's Owner's Manual book for specific intervals on replacing your spark plugs. 
Schedule Spark Plug Replacement in Greenfield
If your Jeep, Chrysler, Dodge, or RAM need new spark plugs, schedule an appointment with our service center in Greenfield, IN. 
Take advantage of our service coupons to benefit and help you during your next scheduled appointment.
If you have any questions or would like more information about routine maintenance services, please feel free to contact our team. Serving the New Castle and Indianapolis area, we hope to hear from you soon!