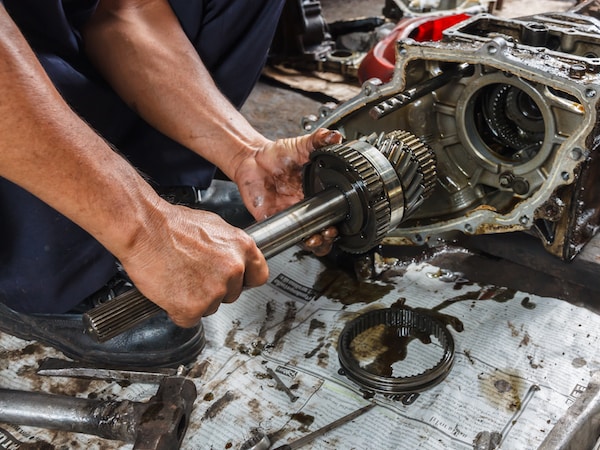 Has your Jeep been having trouble changing gears lately? If so, it may be time to get your transmission flushed, repaired, or replaced. 
When your Jeep requires a transmission repair or maintenance, visit our Jeep Auto Repair Service Center in Greenfield. Our team of technicians is certified and trained to handle a serious component of your car. We will work diligently and get you back on the roads.
Warning Signs that You Need A New Transmission
Generally speaking, you will need to replace the transmission fluid in your vehicle every 30,000 to 60,000 miles. If you tow or do mostly city driving with the constant gear change, it may be wise to change your transmission fluid even more often.
Keep an eye out for these extra warning signs as well: 
Refusal to Switch Gears - Low transmission or the wrong fluid or is oftentimes to blame in this situation
Burning Smell - Often indicates overheating or old transmission fluid
Neutral Noises - Noises coming from your vehicle when your car is in neutral is a sure sign of transmission trouble.
Slipping Gears - This scenario is dangerous while you're on the road. If your gears slip, make sure to let our auto repair mechanic take a look.
Dragging Clutch - A dragging clutch fails to disengage the clutch disk from the flywheel in your vehicle when you press the clutch pedal.
Leaking Fluid- Easiest transmission problems to identify. The leaking fluid is usually red or brown. 
Check Engine Light - Never ignore this light. While it could be minor, have our technicians diagnose the problem.
Grinding or Shaking - Common with automatic car transmissions.
Unresponsive - If your vehicle does not respond when you attempt to change gears-especially from park to drive-it's most likely caused by a problem with your transmission
Schedule Jeep Transmission Service in Greenfield 
Be sure to take advantage of our auto repair service specials to help cut the cost on your scheduled visit to our auto repair service center in Greenfield.
For any more questions about transmission care or our service center, please do not hesitate to contact us. Serving the areas of New Castle and Indianapolis, we will be happy to assist you!