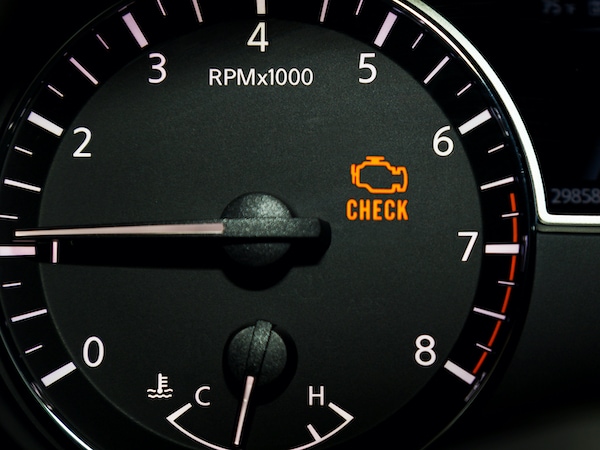 More often than not, seeing the check engine light turn on in your car gives you a dreaded feeling. Even more concerning when you do not know what caused your check engine light to come on.
When your check engine light turns on, it is usually a malfunction within your vehicle emissions, ignitions, and fuel or exhaust systems. Here at Dellen Chrysler Jeep Dodge RAM, we help you diagnose the possible causes that may turn your check engine light to turn on your vehicle. 
Reasons Why My Check Light Is On
Your check engine light constantly monitors your car's major operating systems, engine, and transmission. The primary responsibility of monitoring is to ensure your vehicle operates at its full potential with the lowest possible emissions.
When your check engine light illuminates on your dashboard, it could stem from various reasons, anywhere from minor fixes to major repairs. For this reason, we recommend bringing your new car, truck, or SUV in for a service as soon as possible to have one of our technicians diagnose the problem. 
Here are the possible reasons why your check engine light has turned on:
Failing oxygen sensor
A loose gas cap
Bad spark plug/ignition coil
Bad spark plug wires
A problem with your catalytic converter
Bad mass airflow sensor
Engine vacuum leak
Excessive gas consumption or release of air pollutant
Schedule Service For Your Vehicle Greenfield 
Ignoring your check engine light could cause even more damage to your vehicle. Keep your vehicle running at peak performance with an inspection and scheduled service at our Dellen Chrysler Jeep Dodge RAM service center. 
When the time comes for your scheduled appointment, be sure to take advantage of our available service specials to help you save on your cost. 

If you have any questions or would like more information about our routine maintenance services or dealership, please do not hesitate to contact us. Serving the Indianapolis area, we look forward to assisting you!