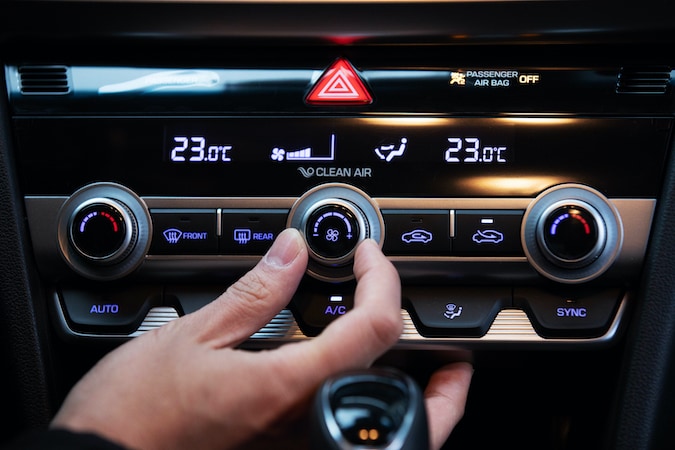 As the temperature rises, your new Chrysler, Jeep, Dodge, or RAM is going to need a properly functioning A/C unit to cool down the engine and cabin. Not only will functioning air-conditioned vehicles keep those warmer months bearable, but keeps your new car, truck, or SUV at a healthy level.
If you begin to notice your A/C unit struggling to blow cool air and regulate the temperature of your cabin, have our Greenfield Service Center inspect, service, or repair your system. We inform you of the warning signs that may come with a defective air conditioning unit in your vehicle.
Warning Signs You Need A New Auto A/C Unit
Typically, your Chrysler, Jeep, Dodge, or RAM's air conditioning unit will not die without warning, showing signs of breakdown or defectiveness. 
The problem attributed to your A/C unit's issues may be a cause of an electrical shortage, lack of freon, fittings becoming loose, or your O-rings, hoses, or even seals wearing out. Other issues that may include:
Loud Noises: Automotive A/C units are usually quiet. Unusual loud noises are predecessors of a malfunction in the system.
Unusual High Cabin Temperature: Cool air not blowing from your A/C unit leading to an uncomfortable heated cabin is the ultimate sign of a failed air compressor
Leaking Fluids: Leaking refrigerant not only breaks down your A/C but also does significant damage to your vehicle's evaporator and compressor if not treated at the first sign of trouble.
Stuck A/C Compressor Clutch: As the main component of your A/C unit, a stuck clutch would not be able to transfer power from the engine over to the compressor. Unfortunately, our only option is to replace the entire thing. 
Bad Smelling Odor: These odors can be caused by mold that has accumulated on the air conditioning system's evaporator case or coolant leak
Schedule Repair for Auto Air Conditioning in Greenfield
With proper tools and expert diagnostics from our service center team at Dellen Chrysler Jeep Dodge RAM, we will be sure to get your air conditioning unit working for the warm months. Acting quickly to correct your vehicle's A/C issues will prevent unbearable driving conditions, keeping you comfortable wherever you go. 
Located in Greenfield and serving the greater Indianapolis area, we want to make sure your vehicle is ready for the warm, humid, or overwhelmingly hot weather. We encourage you to use our service coupons to save on your auto air conditioning repair. 
If you have any questions, please feel free to contact our team. We look forward to hearing from you soon!